Other writing
As well as writing crime novels, I continue to write for other media. After Henry, the sitcom I wrote for both radio and television, is, I'm glad to say, frequently repeated on the wonderful Radio 4 Extra, along with other of my series like No Commitments, Smelling of Roses and Foul Play.
On Radio 4 I am delighted that my actor detective Charles Paris is having a new lease of life, with the wonderful Bill Nighy playing the part in excellent adaptations of my novels by Jeremy Front. Some of these are available as BBC Audio Books.
One of my more unusual writing commissions happened a few years ago, when I wrote the script for A Story Set in Stone, a son-et-lumière to celebrate nine hundred years of Chichester Cathedral.
I continue to write an annual short play for the Arundel Festival Drip Action Theatre Trail. For the last two years these have featured music written and played by my good friend David Hay. (Incidentally, if you're ever looking for a function band, I can heartily recommend David. He played at my 60th Birthday Party in the Groucho Club, my son Jack's Wedding and my mother-in-law Halcyon's 90th Birthday Tea Dance - all brilliant. David Hay is contactable at www.david-hay.co.uk).
So I hope to continue to keep the same variety in the stuff I write. Crime novels are enormous fun, but writing books is a solitary activity. Writing scripts to be performed by actors is much more sociable. So are those moments when I actually do a bit of acting myself. And, like all writers, I do need to get out of the house more!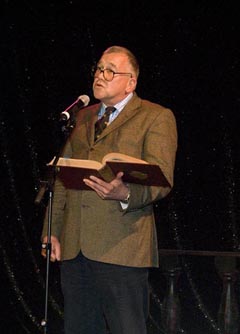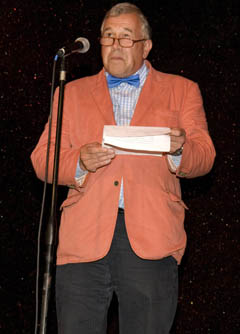 CHARLES PARIS RETURNS AFTER FIFTEEN YEARS
After a long period of 'resting', life is looking up for Charles Paris, who has been cast as the Ghost of Hamlet's Father and First Gravedigger in a new production of Hamlet. But rehearsals are fraught. Ophelia is played by Katrina Selsey, who won the role through a television talent show. Hamlet himself is also played by a reality TV contestant, Jared Root - and the two young stars have rather different views of celebrity and the theatre than the more experienced members of the cast. But when the company reach the first staging post of their tour, the Grand Theatre Marlborough, matters get more serious, with one member of the company seriously injured in what appears to be an accident, and another dead. Once again, Charles Paris is forced to don the mantle of amateur detective to get to the bottom of the mystery.